We about us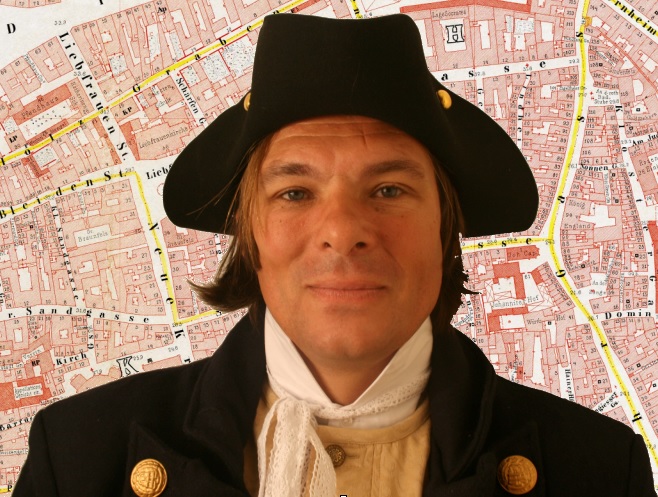 Alexander Ruhe, born 1968, local native and since long in love with Frankfurt. Historian. Studies of history in Mainz, Frankfurt and London. Father of two kids, a book about Ernst May and his architecture, an audio CD with "Frankfurt Stories" and numerous of articles under the title "Frankfurt Newspaper-Archeology".

My first experiences as a guide I have made in 1995,first part time, than with more fervor and since 2004 full time.

It was in 2006 when I first slipped in the costume of the Frankfurt nightguard and divulging to my guided groups now since ten years, "what the bell has said". Meanwhile I have outed up in a dozen rolls. Also I have accompanied as Johann Wolfgang Goethe the Cider-Tram, have guided as a 16.century businessman through the stock exchange, as councilor I accompanied wedding parties and as executor I decapitate Frankfurt villains.

Also I accompany groups to Heidelberg and to Strasbourg, to wine degustations in Rheingau region, also to battlefield visitations in Flanders.

But beside all this, my great love stays to be Frankfurt and my passion its history and to tell about it.
Bookable tours
City walk through the old, but not too old Frankfurt
Accompany the historian Alexander Ruhe on a humorous stroll through Germany's secret capital. Indoor visits of cathedrale and Pauls church parliament (admission for free) are possible, also a indoor visite of Emperor's-Hall (extra ticket ) and a sightseeing tour on the plattform of Maintower (extra ticket) are possible.
Duration of Tour 1.5 - 2.5h when Maintower included minimum 2h
Also bookable as a costume-walk with Johann Wolfgang Goethe
Frankfurt as a centre of Commerce
Trade-Fair, Stock Exchange, the Banks, traffic, trade and permanent ongoing changes, all this defines Frankfurt, not just since yesterday, but is part of our vivid tradition. Allow yourself to be guided through the Frankfurt of Florin, Taler, Mark and Euro.
Between 1.5 and 2h
The IG-Farben House
(IG Dye House)
For over 50 years the european Pentagon and highcommand of american forces in Europe, IG Farben House today hosts Frankfurt University. Hear about GI's, about the behind the scenes masterminds of the Holocaust, about Nobel Prize laureates and Cyclon B, hear about architects and students and a lot more.
Between 2 and 2.5h
Frankfurt cemetery
Come together with the historian and former cemetery gardener Alexander Ruhe fora peaceful meander through Frankfurt's main cemetery, which is at the same time one of Frankfurt's largest gardens. Hear about historical characters and learn about german cemetery culture.
Duration 2h
Daytrip from Frankfurt to Heidelberg
Let the historian Alexander Ruhe accompany you and your group by bus to Heidelberg. View the romantic Castle, the Germany's largest wine barrel ,and be entranced by vivid stories of wars and reformation, about German food and cosiness and lots more.
All day